Naim SBL floorstand speakers. Working condition. No grille covers. S$950.
Canon omnidirectional speakers. These futuristiclooking speakers feature a 5" fullrange driver in the top dome firing down into a reflector for the 360 degrees effect. There is also a 8" subwoofer in the bottom cabinet. One pair is model S-70. The other is S-75. Both appears to be identical. One pair for S$320. Both for S$600.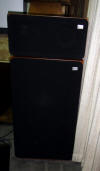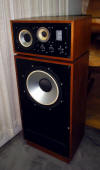 Leak 3090 large floorstand speakers. Four way with a front ported 15" woofer in the bass cabinet. The top section is n a separate box which holds the 5" low mid, 3" mid and the ribbon tweeter. Excellent working condition. S$4800.